Finiteness of global environment and Rebuilding civilization
Rapid urbanization of the 20th century resulted in enormous destruction of the natural environment; human beings came to recognize the finite nature of Earth. Philosophy has required rebuilding a new establishment and practice civilization rooted in the finitude, beyond the anthropocentrism of the West, fused with ideology in harmony with nature of the Orient, from the perspective that overhead view the entire planet as the "principle Earth". Predicted more than half of the population on earth is to be urban dwellers by the mid of the 21st century, we face biggest challenge humankind to explore such a new model based on this philosophy against overcrowd city with high population and activities.


High-quality urban environment and earth disaster prevention
The disaster in Japan frequently occurs in wind and flood damage, earthquake, global environmental problems becomes serious risk of causing bigger damage from the amplification complex. On the other hand, living environment in the city of Japan becomes important to pick an aging society due to the progress of economic globalization while play a bigger role as a center of intellectual industry. It's obviously required to sustain the future quality of living environment, culture and high society such as older people can live healthy and prosperous.


Futuristic city's planning and design corresponds to the global environment
Institute-Graduate School of Innovation cities, which is responsible for providing the planning and design, the space activities of life in the city or region, from the perspective of end-user, has as a mission to research and education at the same time to achieve the realization of high-quality environmental risk and the reduction of the total, the overall planning and design. Its reification has become a strong social demand such as specifying the "city of the future environment" as the city image corresponding to these challenges comprehensively in the government.
The study aims to present the image city of the future after making clear full of vitality, a method of planning and design of a futuristic city that corresponds to the global environment with higher quality but small risk. . In addition, it is necessary to practice IT support system, intelligent infrastructure, to construct. It promotes in cooperation with local governments in Yokohama and Kanagawa who aim at "city of the future environment" and solve problems for the international expansion of the largest cities in Asia.

Global environmental issues and regional disaster
Problem of climate change and biological diversity; the two major themes of global environmental issues gives negative influence on a global scale causing by mass consumption of human resources. Global climate change has become a mass consumption of fossil fuel generation of large-scale global warming substances such as CO2, extreme weather as climate warming begin to manifest as regional disaster. On the other hand, mass consumption of biological resources with a focus on urban has led to disaster vulnerability in the region through international trade in biological resources through the huge while causing the abandonment of land in developed countries of Agriculture, Forestry and Agriculture, Forestry and land-development and turbulent large-scale overfishing, biodiversity on a global scale lost. In conclusion, global environmental issues will surface one after another as a matter of regional disasters.


Supports global environment integrated mitigation and adaptation measures
In the region located under the subduction zone of the plate on the planet, the risk of violence over that sudden disasters become large; both earthquakes and volcanic eruptions could have been weakened regional disaster prevention in global environmental issues. It's essential to reduce the amount of resource consumption as implementation of the "mitigation measures" because mass consumption of resources cause global environmental issues in particular large-scale city. On the other hand concentration of population is urban district is located in the disaster conditions is easy to over violence, shall take the "adaptation" as appropriate. On the other hand, it shall take the "adaptation" as appropriate in concentration of population of urban district located in the disaster condition which is easy to over violence. Therefore the urban city itself shall require global environment-friendly measures integrated to meet appropriate mitigation measures, adaptation and disaster management in the same place.


Global environment-friendly future city meet the challenges that conflict
Nuclear accident in the Great East Japan Earthquake (March 11, 2011), it is a conflict situation tailed dependent measures of low-carbon nuclear power plant, that failure by the earthquake and tsunami that serious disaster against mitigation adaptation measures placed in particular. The world's largest city, Tokyo metropolitan area has been fraught with greater risk, such as a collapse in one fell swoop by the near-field earthquake such conflicts. One of the most important issues on the go, open the future of humanity is to design "environment-friendly futuristic city" responding to appropriate challenges like them.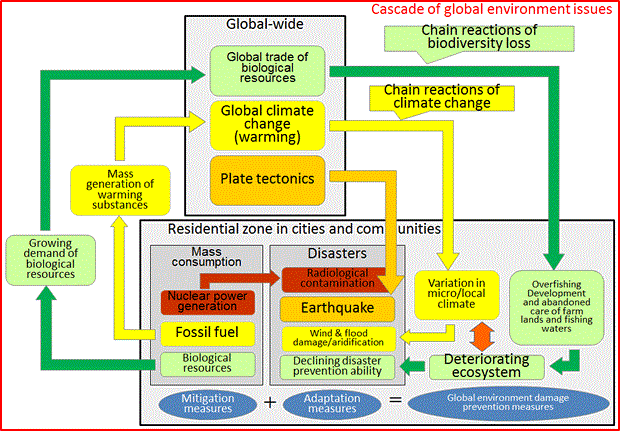 Human sphere consists of Socio-economic factors and Artificial environmental factors
Humans in search of well-being, who runs socio-economic activities and social system based on various cultural and religious. Population rapidly increases trades and distribution activities in various industries through technological innovation and then mass consumption of resources begins to occur. Human Economic factors society consisting of artificial environment of infrastructure, buildings and roads, and communications, electricity, gas, water needs to modify the natural artificial earth Agriculture and Forestry, and has expanded to global scale with growth. Collectively defined these areas as human sphere.


Biosphere lead to ecosystem services from ecosystems
To expand the sphere of human influence and natural space shrink destruction, ecosystem has been significantly altered species extinction and end to lose biodiversity. It will significantly impair (ecosystem services) grace for this ecosystem humans have. Ecosystem services brings benefits of essential ecosystem services for human to survive and hold welfare; not only supply service such as firewood, wood fiber, water, food, service but also 1) coordination service such as water purification, disease control, climate regulation, flood control 2) culture function such as recreation, educational, aesthetic and spiritual role and 3) infrastructure services such as primary production, soil formation and nutrient cycling to support. It's "biosphere" area of this ecosystem.


Inorganic nature of the Geosphere, Hydrosphere, Atmosphere to support the provision of Human sphere and Biosphere
Most of the activity of the survival of these human sphere and biosphere run near the surface and it's supported by inorganic nature of Geosphere, Hydrosphere and Atmosphere. Climate change is that Human activities have increased atmospheric carbon dioxide concentration along with changes in the hydrosphere due to global warming and become a disaster area due to changes in weather over time. Needless to say that that the Geosphere with geological plates and Hydrosphere of the water cycle has been increased the provision of human activities.


Global environment problems, dependency of external resources and total integration solution
Global environment closely linked to the changes in zone 5; Hydrosphere, Atmosphere, Biosphere, Atmosphere and Human sphere. And negative impact of environmental issues has become more pronounced on a global scale with activities increase and population growth in 250 year after the Industrial Revolution. Large scale artificial population is concentrated most activity on the Earth in the city. The city is the largest source causing global environmental issues through the external dependencies of resources and concentrated enormous disaster damage. It's the most important area of global environmental problem-solving for the city and challenge of urban problems to manage properly reshaping the perspective of global environmental issues and human activities in space. It's required to design "Future of Eco-friendly Earth city" as an integrated solution to meet.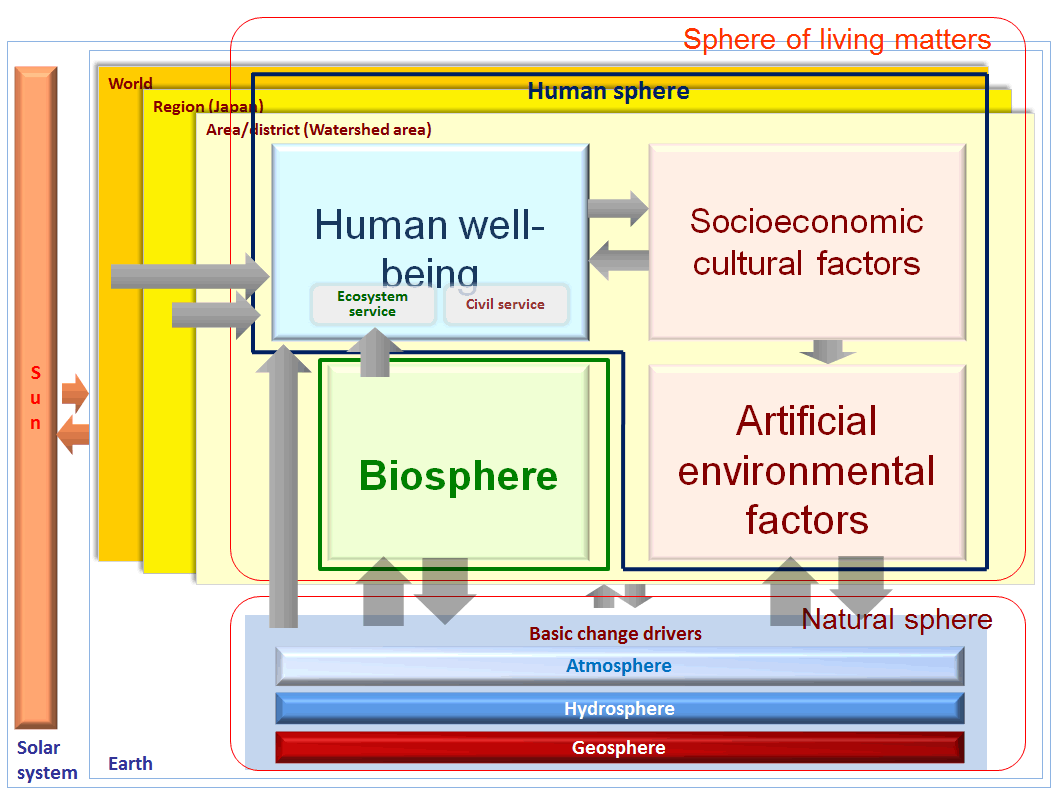 Area of joint use of the water sphere on artificial stream from Mt.Fuji to Tokyo Bay
The targeting research field of study was at tied up at Kanagawa River Basin area, the sharing water sphere with common destiny on artificial stream from Mt.Fuji to Tokyo Bay. The 9.2 million living in metropolis such as Yokohama and Kawasaki depends on water of the Sagami River and Sakawa River basin with a water source and Tanzawa and Hakone foothills and Mt. Fuji. The abandonment of plantation management of water source ecosystem has brought both devastation and disturbance. And it threatens safety and supply of the water, which is center for ecosystem services. The city isn't independent itself in space but established himself by depending to various external resources in this manner at the global scale.


The natural environment changes and degeneration of Tokyo metropolitan area after sudden expansion
This study targets to capture not only the basin expansion Kanagawa as a unit of water circulation in the city but also the natural environment of the atmosphere to enable predicting the climate change from local atmosphere reflected by geosphere structures such as geographical and geological features in the plate boundary zone. Defined in its natural environment, human and creature have survived together at the near-surface of earth. Since the Yokohama marine opening 150 years ago, the large area of Kanagawa located at southwestern part of the Tokyo metropolitan area lead Japanese modern industrialization of modern and accelerate urbanization in this half-century in particular. Expanding urbanization in the metropolitan area meant in the history of the disappearance of Satoyama woodlands. A big shift in management methods of the city has been forced after degeneracy of large cities with decreasing total population of Japan. The current status of field research today is to have complex and multi-faceted answers to support global environmental issues while reaching its aging society and population decline. Selecting small, middle and large cities of Tsuru, Hadano and Yokohama city as research centers, we approach cross-sectors of them.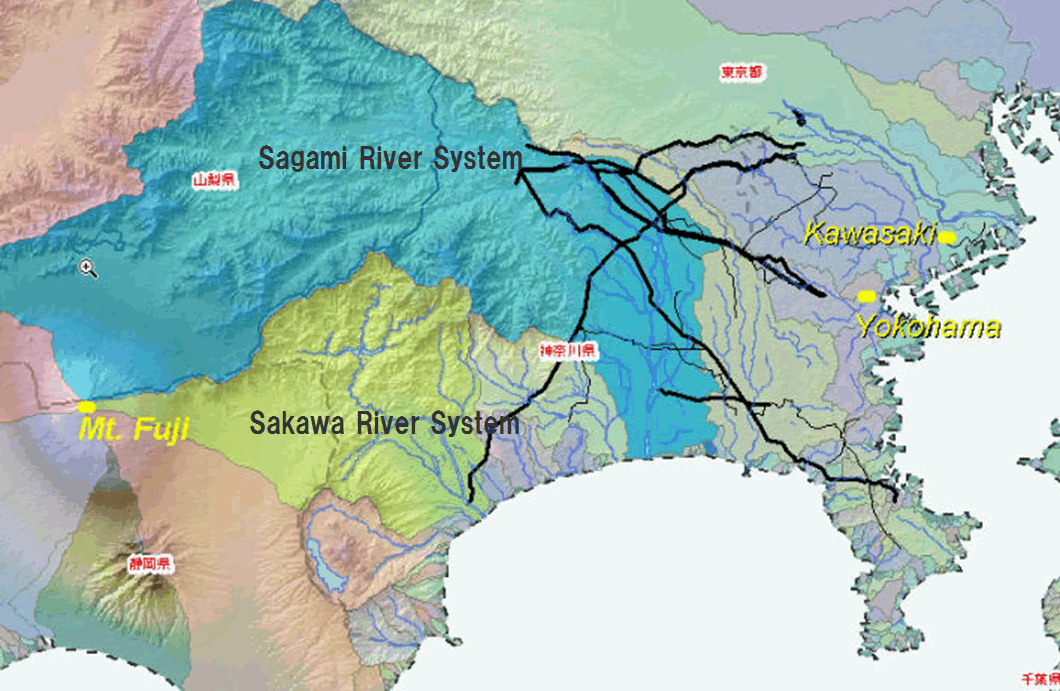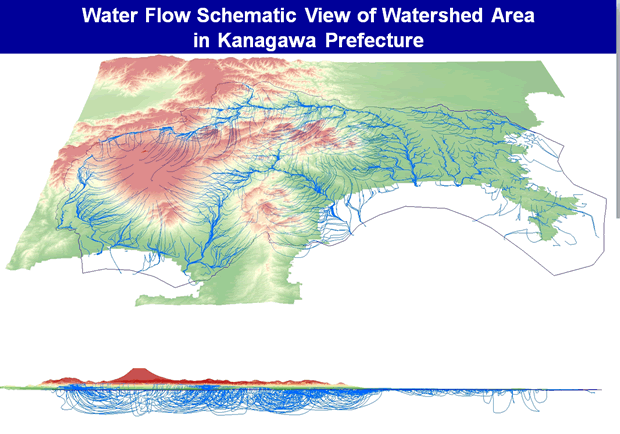 IT support tool " Time space data information platform" and collaborative research team
This study character is based on the field of practice with local government utilization of IT support tool, (intelligent infrastructure) and cooperation of research system in different fields after designing entire framework (Figure 5). Given the chain of disasters and global environmental issues shown in Figure 1, we address the concept of planning and design to improve the quality of living environment, culture and society and the risk reduction of "Adaptation plan" against disaster (emergency disaster prevention) and "mitigation measures plan"on global environmental problems (normal low-carbon community development). To give shape it, it's necessary to build a "time space date information infrastructure" relating to research target while cooperating with researchers in the other field to embody, based on the conceptual frame of the structural elements of regional environment listed in Figure 2.


The cerebral function to externalize from IT Database and Platform
Time space data information platform described in Figure 6 achieve intellectual sharing and collaboration of information recognition while comparing stored GIS database, 5 area of information zone with a variety of formats in the axes on space-time. It's the intelligent infrastructure as cerebral function externally to help intellectual cooperation visually and it plays the role of the intellectual platform of finding work in cooperation integration solution to the problem such as the complicated disaster and global environment issue. The existence of this platform is the main reason why local governments work together to enable new cooperation "design of future city with global environment friendly" for researchers to cooperate with researchers, research institute, enterprise and NPO.